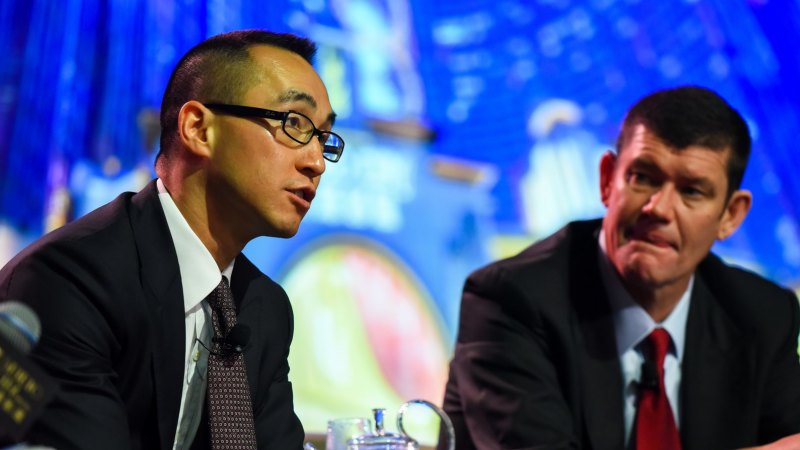 The inquiry will no longer investigate whether Melco is a "suitable person" to be involved in Crown's new Barangaroo casino in Sydney after Melco sold its 9.99 per cent Crown stake – the only shares it had effectively acquired – to American private equity firm Blackstone in April.
But ILGA said it will still consider whether Mr Packer's sale of a 9.99 per cent stake in Crown to Melco and his agreement to sell 9.99 per cent more breached Crown's casino licence.
The licence forbids any involvement with Lawrence Ho's father, Stanley Ho, and a list of associates due to allegations of the Macau gambling tycoon's links to organised crime. Stanley Ho died in late May aged 98, a month after Lawrence Ho sold the last of his shares in Crown.
The inquiry will also consider whether Crown is a "suitable person" to hold its casino licence in light of its dealings with junkets, and if not, "what, if any, changes would be required" to make it suitable.
Crown has denied any wrongdoing in how it worked with junkets. However its executive chairman John Alexander has stood aside since the scandal became public as part of a leadership reshuffle.
The first day of the ILGA inquiry heard that Mr Packer and some of his most loyal lieutenants, including Guy Jalland, Michael Johnston, and Mr Alexander would be called to give evidence.
Loading
The inquiry was also derailed in February when Melco launched court action in an attempt to avoid handing over secret company documents ILGA requested as part of its investigation into the group's inner workings. The case went all the way to the High Court, which earlier this month backed the inquiry's right to request the documents.
ILGA has not released a new timetable for public hearings.
Source link