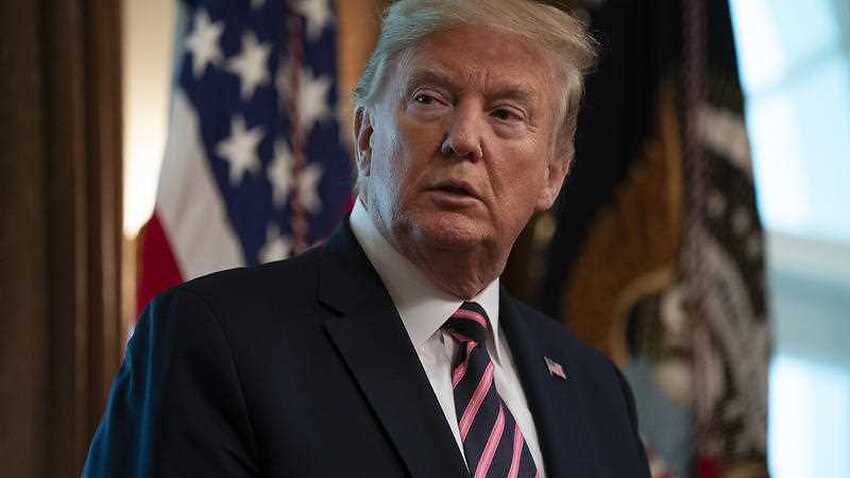 US President Donald Trump's musings on whether injecting disinfectants might treat the coronavirus have horrified medical professionals.
The comments have also raised fresh concerns that Mr Trump's stream-of-consciousness briefings could push frightened people to poison themselves with untested treatments.
An international chorus of doctors and health experts urged people not to drink or inject disinfectant on Friday.
A day earlier, Mr Trump suggested scientists should investigate inserting the cleaning agent into the body as a way to cure COVID-19, the respiratory illness caused by the new coronavirus.
Initially, the White House said Mr Trump's comments were being taken out of context.
Later Mr Trump said he was being sarcastic.
"I was asking a question sarcastically to reporters like you just to see what would happen," Trump told reporters at the White House.
University of East Anglia professor of medicine Paul Hunter said injecting disinfectants likely would kill anyone who tried it.
"This is one of the most dangerous and idiotic suggestions made so far in how one might actually treat COVID-19," he said.
"It is hugely irresponsible because, sadly, there are people around the world who might believe this sort of nonsense and try it out for themselves."
Australia's Chief Medical Officer Brendan Murphy stifled a laugh on Friday when asked for his clinical advice on such a novel treatment.
"I would caution against the injection of disinfection [sic]!" he said. "They could be quite toxic to people."
Mr Trump said at his daily news briefing on Thursday that scientists should explore whether inserting ultraviolet light or disinfectant into the bodies of people infected with the coronavirus might help them clear the disease.
"Is there a way we can do something like that by injection, inside, or almost a cleaning?" Mr Trump asked. "It would be interesting to check that."
Mr Trump also has promoted an anti-malaria drug called hydroxychloroquine to treat people with COVID-19 even though its effectiveness is unproven and there are concerns about heart issues.
Serious health risks
The US Food and Drug Administration on Friday cautioned against using hydroxychloroquine in COVID-19 patients outside of hospitals and clinical trials, citing risks of serious heart rhythm problems.
The American Cleaning Institute said in a statement that disinfectants were meant to kill germs or viruses on hard surfaces.
"Under no circumstances should they ever be used on one's skin, ingested or injected internally," the organisation said.
Dettol and Lysol manufacturer Reckitt Benckiser issued a statement warning people not to ingest or inject its products.
There were early signs that at least some Americans were preparing to act on Trump's comments.
A spokesman for Maryland's governor wrote on Twitter that the state's Emergency Management Agency had received more than 100 calls about the use of bleach to treat COVID-19.
Mr Trump's suggestion unleashed a torrent of ridicule online, with one comedian on social media app TikTok miming the action of injecting bleach into her veins like a drug.
On Twitter, journalists shared a video of the co-ordinator of the White House task force on the coronavirus, who appeared to look down, hunch her shoulders, and blink rapidly as Mr Trump told the briefing that disinfectant "does a tremendous number on the lungs".
While UV light is known to kill viruses contained in droplets in the air, doctors have said there is no way it could be introduced into the human body to target cells infected with the coronavirus.
People in Australia must stay at least 1.5 metres away from others and gatherings are limited to two people unless you are with your family or household.
If you believe you may have contracted the virus, call your doctor (don't visit) or contact the national Coronavirus Health Information Hotline on 1800 020 080. If you are struggling to breathe or experiencing a medical emergency, call 000.
SBS is committed to informing Australia's diverse communities about the latest COVID-19 developments.
News and information is available in 63 languages at sbs.com.au/coronavirus.