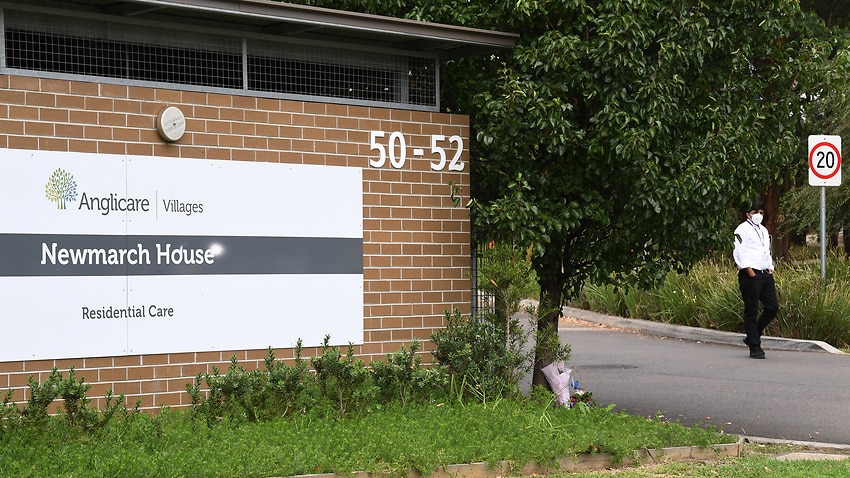 Two more elderly Australians have died of coronavirus – another resident of Sydney aged care home Newmarch House and an 86-year-old woman at Mersey Community Hospital in Tasmania's northwest.
The national death toll now stands at 93.
Few details were available on the resident of the nursing home near Penrith in NSW, where 13 elderly people have now died from the virus.
The home's operator Anglicare released a statement on Friday saying it was deeply saddened by the death on Thursday afternoon, and extended its deepest sympathies to the family.
"The Coronavirus has had a devastating impact on all our residents and families as well as our staff over the last three weeks", the statement said.
On Thursday, another three Newmarch residents were identified as positive for coronavirus.
Nearly 60 staff members and residents at the nursing home have tested positive to the coronavirus since the outbreak on April 11.
Anglicare said the latest cases came despite "having strict procedures and enforced infection control practices in place".
"These new cases may reflect historical transmissions and reflect the rigorous and ongoing testing at Newmarch House. We will be investigating further how this has occurred."
The statement also said the home has been able to turn more attention to communicating with families, and window-visits were proving successful.
NSW Premier Gladys Berejiklian on Friday acknowledged there has been some improvement in the way the facility has been communicating with family members.
"We've called for that because what's happening there is not acceptable," she told ABC News.
The premier says aged care operators need to "better manage themselves" to ensure family members of residents can visit.
"Relatives should not be prevented from visiting their loved ones," she said.
"We know until there is a cure, all of us have to change the way we live and the most vulnerable shouldn't be excluded from seeing their relatives for a prolonged period of time."
Cluster in Tasmania
In Tasmania, 12 of the island's 13 COVID-19 deaths have been in the northwest and two-thirds of its overall 221 cases are linked to the cluster, which is believed to have originated from the ill-fated Ruby Princess cruise ship
The only death in the south of the state was also a Ruby Princess passenger who died in the Royal Hobart Hospital.
An interim report, released on Thursday, found the source of the virus cluster was two elderly Ruby Princess passengers who were admitted in late March and later died.
Twenty-one of the nation's virus deaths had already been linked to the liner after passengers were allowed to disembark in Sydney in March before test results were returned.
The first North West healthcare worker returned a positive test on 3 April. Seventy-three were infected by 21 April.
Tasmania's premier Peter Gutwein on Thursday urged people not to blame the healthcare workers or cruise ship passengers.
"This is simply a case of people going about their lives, going about their jobs," he said, describing the Ruby Princess as "ground zero".
Two new cases were confirmed on Thursday night, one in the northwest and one in the north.
People in Australia must stay at least 1.5 metres away from others. Check your state's restrictions on gathering limits.
Testing for coronavirus is now widely available across Australia. If you are experiencing cold or flu symptoms, arrange a test by calling your doctor or contact the Coronavirus Health Information Hotline on 1800 020 080.
The federal government's coronavirus tracing app COVIDSafe is available for download from your phone's app store.
SBS is committed to informing Australia's diverse communities about the latest COVID-19 developments. News and information is available in 63 languages at sbs.com.au/coronavirus