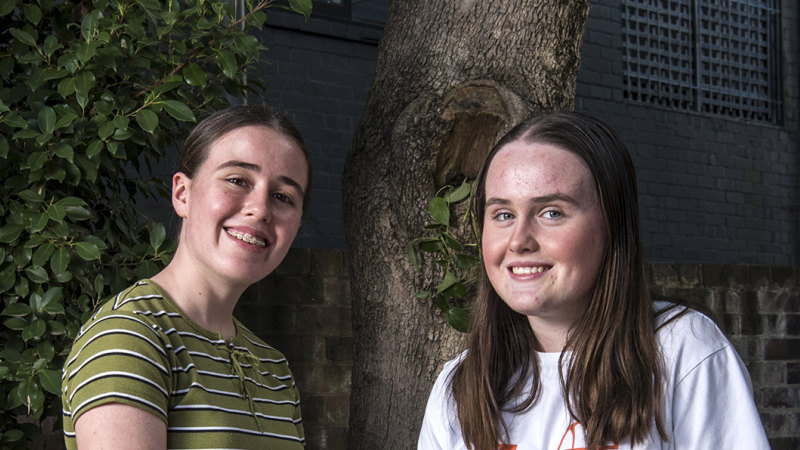 "There was a period of time where both kids were having nightmares about being killed or dying, or people they loved dying. It has followed an arc. I do feel like we have settled into a bit of a routine now where we just say, 'yeah, that's COVID'," Joanne said.
Loading
Sydney Anxiety Clinic principal psychologist Jodie Lowinger said there is "an escalation of grief and stress and anxiety and agitation" and children are responding with different levels of severity.
But she said there is a lot parents can do to help, including looking after their own mindset, limiting news consumption and finding silver linings – like greater opportunities for parent-child bonding.
Balmain mother Robi Stanton said she has been enjoying the "unique opportunity" to spend more time with her teen daughters Harper, 16 and Coco, 14, and she's been "really impressed with their resilience and adaptability".
Harper, who is in year 11, had some disappointments after music events were cancelled and her usually busy co-curricular schedule evaporated.
"I was worried about how I would cope with having nothing to do," she said.
But going for runs and playing table tennis with her sister, cooking, and chatting with friends online is helping her stay positive.
Harper said she and her school friends were "trying not to stress each other out" and not thinking or talking too much about what will happen between now and doing their HSC next year.
A study published in The Journal of the American Medical Association on Saturday that surveyed primary school children in Hubei province after a month of lockdown found about 22 per cent reported depressive symptoms, and 19 per cent had anxiety symptoms – both of which were higher than previous surveys of children in China.
The authors suggested the "reduction of outdoor activities and social interaction may have been associated with an increase in children's depressive symptoms".
Dr Lowinger said some anxiety "is a normal and understandable reaction … It is when anxiety escalates to cause more prolonged fear or worry that it is reason for concern."
To ease anxiety, she said it is helpful for parents to "create opportunities to communicate openly and honestly and share information about what is happening calmly and factually."
Keeping kids' anxiety at bay
Ask open ended questions, and offer age-appropriate information with a focus on what's being done to help 
Embrace measures to contain the outbreak rather than railing against them
Engage technology as an aid for connection, while maintaining balance and setting boundaries around news intake
Encourage mood-lifting acts of kindness to ourselves and others
Make time for plenty of exercise and movement
Look out for signs of anxiety and stress, including out-of-character behaviour
Out-of-character behaviour, excessive worry and over-checking, unexplained aches and pains and fatigue, withdrawal from friends, family and activities, and drug and alcohol abuse are among the signs she said parents should look out for, and seek early help from a mental health professional if recognised.
She said it is also important for parents to look after their own mental health and stress levels at this time.
"Children are typically barometers of our environment. If parents are feeling more stressed… children will pick up on that temperature gauge within the household."
Jenny Noyes is a journalist at the Sydney Morning Herald. She was previously a writer and editor at Daily Life.