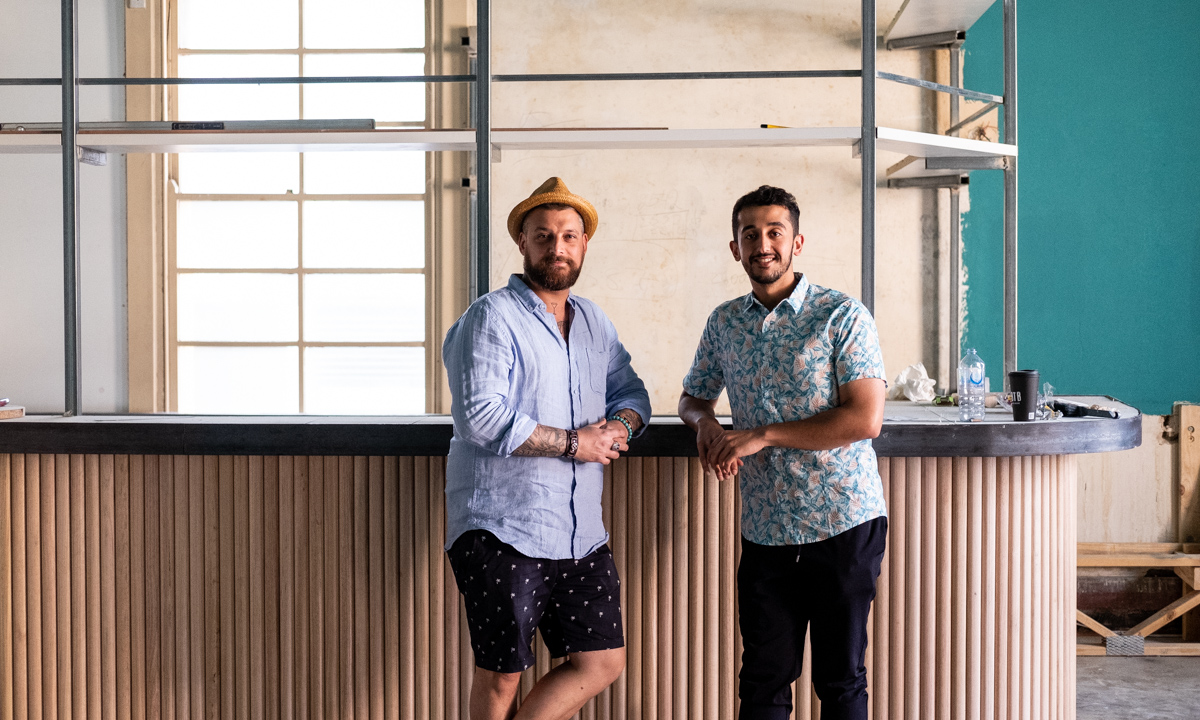 From the founder of Adelaide Central Market's Real Falafel comes a Mediterranean and Middle Eastern influenced cocktail bar, bringing life to a West End CBD space left empty since 2015.
At ground level, Quelltaler House has been a hub of activity over the last few years, with Red October opening in 2017 and a new venue, Shotgun Willie's, slated for launch soon.
A space in the building's first floor, though, has sat vacant since Vinyl, a small bar and Renew Adelaide-supporter project, closed in 2015.
By the end of this month, the upper-level space will launch anew as Blue Venus, a bar conceptualised by Real Falafel founder and chef, Mitch, and headed up by bar manager Marco Puglia.
Both Mitch and Marco are keeping menu details pretty close to their chest until opening, but they say Blue Venus will have a "Mediterranean" cocktail and small plates focus, with influence from Middle Eastern flavours.
"We'll serve most of our cocktails in a Mediterranean way," Mitch explains.
"It will be more fun to introduce that amazing flavour of Middle East, like pomegranate, like Turkish Delight cocktails, and all those flavours.
"Our mezze is food that I'm pretty sure hasn't been delivered in any venues in Adelaide."
On Thursday nights and weekends, bartenders will push an airline trolley around the bar, delivering drinks directly to punters' tables.
"Since you can't travel, we'll give you the experience of travelling," Marco smiles.
Marco has experience working in Adelaide's late-night bar scene, including at neighbouring venue Hains & Co. He has also been part of the opening teams at the now-defunct Old Friend and Henley venue Seamore's.
He left Adelaide in 2011 to live in Europe and worked and travelled in hospitality across various countries on the continent, including setting up a bar of his own. He relocated back home to Adelaide in 2020.
As with his Central Market business, Real Falafel, Mitch says Blue Venus will have a focus on quality ingredients, all the while keeping the price point accessible.
But the alcohol offering will only be one aspect of the business, with Blue Venus being set up as a venue with entertainment at its core.
"I'm studying my bachelor of events and tourism management, so that was kind of why I want to not focus only on alcohol, focus on delivering quality of alcohol plus a kind of entertainment and experience through the venue," Mitch says.
"I'm trying to bring to South Australia something memorable, something you go [to] for a purpose. And with COVID-19, where we miss the entertainment, we miss the experience of fun, so what I'm trying to bring to the table today is people can sit and enjoy their cocktail there and listen to good music, or watch good entertainment.
"We'll deliver a different kind of entertainment that will bring customer and give them a smile."
"It's all about good vibes," Marco says.
"People need to realise they can have fun, rather than go to a place that's very formal and unapproachable. We just want to have something where you can let your hair down."
The space will seat around 70 people, and is designed by Nicole Cox of Yellow Sky Design. Booth seating will skirt the room, with the bar located towards the back of the space. Additional seating will be strewn throughout the middle of the room.
A stage is situated at the opposite end from the bar, and will host deejays, musicians, and dance performances. There will be karaoke every Sunday night.
"You go to restaurant to eat, you go to a café to drink coffee, but you go to a bar not just to drink alcohol, because you can get alcohol at home," Mitch says.
"We want to deliver that experience that you will remember and that you'll want to come back for… The space will be suitable to create any event or festival, to bring people together."
Mitch came to South Australia from Saudi Arabia in 2015 on a student visa, and in April 2018 he founded Real Falafel, alongside his business partner Matt Lazarus. In 2019, Mitch was granted a protection visa, as he originally left his home country for fear of persecution for his sexuality.
He hopes for Blue Venus to be a space that welcomes all.
"This venue is designed to be for everyone and everyone is welcome," he says.
"Yes, we're in 2021, but we still need to send that message and remind people that we are all equal, we all love each other.
"And five per cent of my sales will be going to a woman and LGBT charities. That's support, because 2020 was interesting for everyone, and people need support."
Blue Venus is slated to open by the end of January 2021. Subscribe to CityMag for updates as the project progresses.
Thank you for dropping in to My Local Pages and reading this news update involving current SA news titled "Cocktail bar Blue Venus to launch on Gilbert Place". This news article was shared by MyLocalPages as part of our Australian news services.
#Cocktail #bar #Blue #Venus #launch #Gilbert #Place
Source link