Media release – Michael Ferguson, Minister for Infrastructure and Transport, 23 April 2020
Bright future for Spirit of Tasmania
A new port for the Spirit of Tasmania vessels in Victoria will future-proof the service, increase freight capacity and provide access to secondary tourism markets from New South Wales, Queensland and South Australia.
TT-Line's announcement today that it will move its Victorian port to Corio Quay, north of Geelong, will ensure the service has a bright future and can continue to grow.
Our tourism industry is hurting right now but it is important we are ready to welcome visitors back to Tasmania in the future, post COVID-19.
Importantly, the massive new 12-hectare site will increase freight capacity to get more Tasmanian goods to interstate markets. The current freight holding yard at Station Pier is small and well below standard. This is causing major traffic and logistics problems and is putting pressure on our primary producers' ability to meet projected market growth demand, and we want to be able to meet that increased demand.
The new site will also allow for more efficient passenger vehicle check in, a passenger vehicle marshalling area for 600 cars, passenger amenities, security facilities, food and beverage outlets, children's play area and a pet exercise area.
The new port also provides an excellent financial outcome for TT-Line and its customers, where TT-Line would otherwise have seen significant cost increases at Station Pier, which would have been passed onto freight customers and passengers, without the fit-for-purpose and future proof facility that new port offers.
---
Media release – Shane Broad MP, Shadow Minister for Infrastructure, 23 April 2020
More detail needed on Spirits decision
· Government confirms Spirits will dock at Geelong
· COVID-19 distracts from proper public scrutiny
· Significant questions about new operation remain unanswered
After months of secrecy and uncertainty the government today announced its decision to move the Spirit of Tasmania ferry berth from Station Pier in Melbourne to Geelong.
Shadow Minister for Infrastructure, Shane Broad, said the Government's decision to authorise such a significant move in the middle of the coronavirus crisis is questionable.
"Changing the Spirit of Tasmania's ferry berth from Station Pier to Geelong is a major decision that will have serious implications for the state's tourism, freight and domestic travel," Dr Broad said.
"This is already a period of incredible uncertainty for the Spirit of Tasmania business, with no guarantees that land-based jobs will be protected with passenger numbers plummeting as a result of the impact of Covid-19.
"There was no clarity from today's announcement as to when the new Spirits will be delivered and how much they will cost. We don't even know if a construction contract has been signed.
"There are significant questions that remain unanswered about this move – particularly in relation to the lease arrangements at the Geelong port, including the cost and duration of the lease, and the attitude of passengers towards the move. Some market research has been done, but with passenger numbers severely impacted by Covid-19, the ability to communicate this decision to tourism customers is limited.
"Decisions relating to the operations of the Spirit of Tasmania service have been shrouded in secrecy and uncertainty for months and Tasmanians deserve more transparency from the Government on the matter.
"This service doesn't belong to the Government – it belongs to all Tasmanians who deserve to have their concerns listened to and questions answered."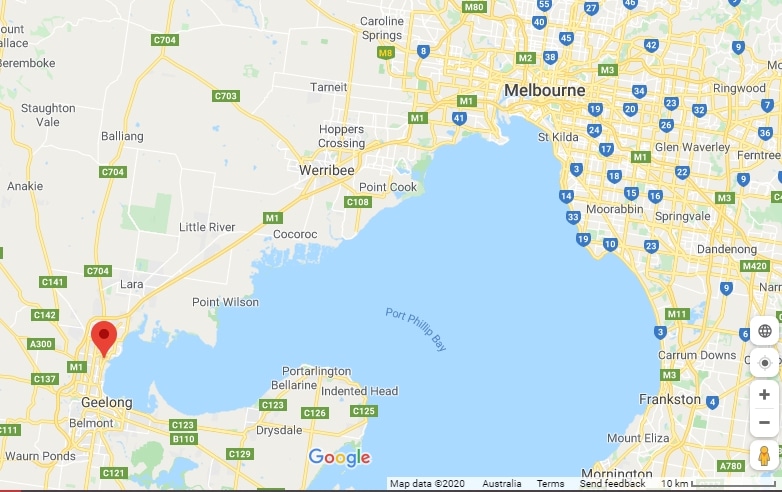 ---
Media release – Geelong Port, 23 April 2020 
Spirit of Tasmania vessels headed to Geelong Port in 2022
Geelong Port have reached agreement with TT-Line Company Pty Ltd to relocate the Victorian port home of the Spirit of Tasmania vessels, from Station Pier, Port Melbourne to Corio Quay, north of Geelong.
The project is an important investment in regional Australia, which will increase freight and exports for Victoria and jobs and tourism in regional Victoria. Geelong Port CEO Brett Winter said that the deal with TT-Line will create major economic, employment and tourism opportunities for Geelong, the Bellarine and the wider G21 region.
"Bringing the iconic Spirit of Tasmania vessels to Geelong Port is a huge coup for the Geelong region. Each year over 450,000 passengers and 105,000 twenty–foot equivalent units of freight sail with Spirit of Tasmania" he said.
"Now more than ever, opportunities to inject new jobs and economic growth into the greater Geelong region are crucial. Working with our key stakeholders, we need to streamline our planning approvals so that this important project will be ready for 2022".
The project is expected to generate up to 75 construction jobs over the two year build program, whilst increasing tourism expenditure in the greater Geelong region by up to $174.1 million by 2029. In addition there will be a number of new opportunities for regional hospitality, agribusiness, and logistics services.
The proposed solution at Geelong Port's Corio Quay, located in Geelong's north, would provide a dedicated, large scale passenger and freight terminal that would transform Spirit of Tasmania's customer experience. With access to the Princes Highway and Freeway, Corio Quay is near two rail stations, 15 minutes from Avalon Airport and a mere 50 minutes from the Great Ocean Road.
The new 12-hectare dedicated site will include a purpose-built passenger terminal building, a passenger vehicle marshalling area for 600 cars, more efficient passenger vehicle check in, security facilities, public amenities, crew accommodation, a cafe, children's play area and a pet exercise area.
Mr. Winter said "Whether it be passengers or freight, Geelong Port have designed a solution to optimise the overall port experience, whilst providing unprecedented flexibility and value to Spirit of Tasmania and their customers. Working with TT-Line, the Victorian Government and the City of Greater Geelong Council, we'll develop a plan to ensure there's appropriate infrastructure to support the increase in traffic and minimise any potential disruption to our customers and the local community during both construction and operational phases."
Geelong Port has been an integral part of Geelong's economic and social fabric for more than 150 years, helping to transform the city and region into the economic, tourism and community hub it is today.
Bringing the iconic Spirit of Tasmania vessels to Geelong is another example of how Geelon gPort is continuing to drive the prosperity of the region.
---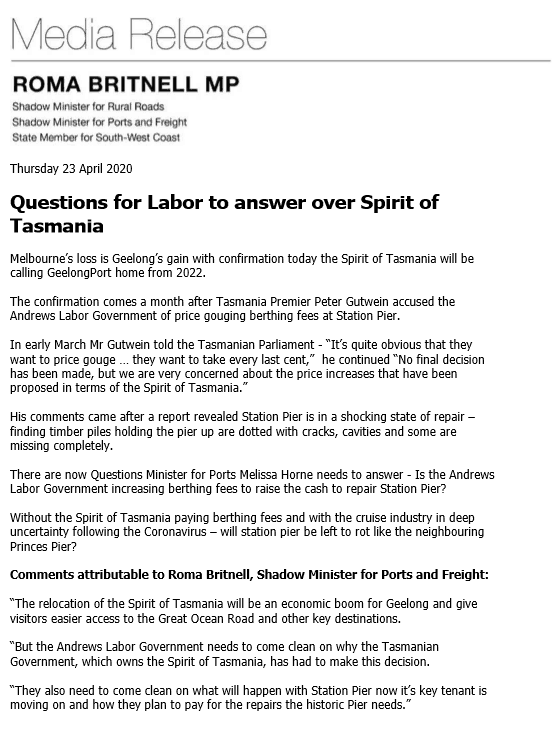 Author Credits: [show_post_categories parent="no" parentcategory="writers" show = "category" hyperlink="yes"]