Peter Rathjen –  the former University of Tasmania Vice-Chancellor was in the news, and possibly a pot of hot water, after stepping down suddenly this week from the equivalent post at the University of Adelaide. He was given indefinite extraordinary leave this week less than 24 hours after the abrupt resignation of Chancellor and former SA Governor Kevin Scarce. As speculation mounted, Independent Commissioner Against Corruption Bruce Lander released a bombshell statement, confirming: "I have commenced an investigation in respect of allegations of improper conduct by the Vice-Chancellor of The University of Adelaide."
"I am also investigating the manner in which the University dealt with those allegations," he wrote. "The University has committed to providing full cooperation with my investigation. I do not intend to comment further on the nature of the allegations." Lander emphasised that "the fact of my investigation, which has only just commenced, must not be construed as a finding that any person has engaged in impropriety." "That will be a matter for findings at the conclusion of the investigation," he said. "Secondly, my investigation is in respect of potential issues of serious or systemic misconduct and maladministration, not corruption." Rathjen has not commented publicly.
taxis – Minister for Infrastructure and Transport Michael announced support for the taxi industry "so it can continue transporting Tasmanians to vital health appointments and to access other essential services, like supermarkets." He said it is particularly important for people with a disability, those with mobility issues and elderly Tasmanians.
"Our taxi industry is experiencing a significant downturn in passengers due to the unprecedented COVID-19 restrictions, which is why we have introduced a number of measures to support the industry, including:
To keep more taxis on the road, we are offering taxi operators with registration expiring between March 1, 2020, and September 30, 2020, with a free 12-month registration extension if the taxi continues to operate;
For operators with registration expiring in the same period, who are not continuing to operate during the current restrictions, a freeze on registration is available, which can be unfrozen when operating conditions improve to get more taxis back on our roads faster;
We will also extend the maximum operating age of taxis by six months for taxis that reach, or have reached, their maximum age*, between March 1, 2020, and September 30, 2020; and
Given the current drop in demand, we are cancelling the annual release of new taxi licences statewide in 2020."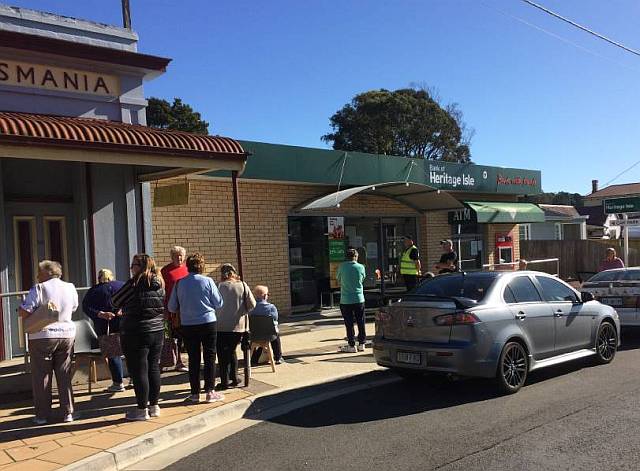 Bank of Heritage Isle – describing itself as 'a mutual bank servicing the wider Tasmanian community', BHI decided that that was best done by shutting all its branches on the island. "We are sorry," said BOHI chief member officer Andrew Rasby. He claimed the bank had tried its best to serve the community in Tasmania. "We spent $400,000 upgrading the products, we retrained the staff, we merged the computer systems and unfortunately the bank wasn't growing [in Tasmania] and was losing money." He said the bank was losing more than $1 million per year in Tasmania alone, with branches experiencing about a 30 per cent reduction in transactions. "No one can sustain a business that continues to have operating losses," Rasby said. Bank members would still be able to withdraw from or deposit money in their accounts through Australia post. The Beaconsfield branch closed on Friday 8 may with Launceston, George Town and Hobart to follow, which will make 22 employees redundant.
Financial Sector Union national secretary Julia Angrisano said the union was meeting with BOHI in hopes of finding a way to save the branches and jobs. "We are deeply concerned that this bank appears to be using 'cover' from the global COVID19 pandemic to bring forward plans for restructuring its operations and cutting costs by shutting branches," she said. "Branch closures impact adversely on local customers, especially the elderly and on local businesses.
bushfire tips – the State Fire Management Council (SFMC) has an exhibitor stand at this year's Agfest 2020 in the cloud. The exhibit will be a one-stop service for farmers and rural landholders on bushfire management and planning. "I am excited to announce that as part of the SFMC's presence at Agfest, landholders will also be invited to register to participate in the enhanced Red Hot Tips Program," said Minister for Police, Fire and Emergency Management Mark Shelton. Red Hot Tips aims to educate, engage, and support farmers and rural landholders to actively manage their bushfire risk, while encouraging collaborative, practical vegetation fire management and ecological sustainability. Facilitators will work with farmers to provide:
practical advice on effective bushfire management planning;
guidance on developing fuel reduction burn plans;
opportunities for private and public landholders to work together on training and mentoring;
assistance identifying resources needed for planned fuel reduction burning;
advice on alternative fuel reduction treatments; and
access to helpful resources like the SFMC booklet.
Facilitators will start working with landholders in August 2020 and more information can be found at the Red Hot Tips web site at SFMC.tas.gov.au/RedHotTips
NW outbreak – Labor said 'alarming new information detailing serious failings at hospitals in the North West' strengthens their call for a Royal Commission into the COVID-19 crisis in Tasmania. Reports in the media from whistleblowers revealed the North West Regional Hospital and NW Private Hospital were struggling with staff shortages and concerns about personal protective equipment weeks before they were shut down due to the COVID-19 outbreak. "It's alarming to hear today that only weeks before these North West hospitals were forced to close due to the outbreak, they were struggling to recruit cleaners, orderlies, locums and nurses and also had serious concerns about PPE," said leader Rebecca White. "Labor had been raising concerns of staff shortages and budget cuts in our major hospitals and the impact this is having on health workers and patients in the months leading into this crisis."
"We need to understand the cultural and structural reasons for this outbreak to make sure they can be urgently addressed in other healthcare settings around the state," said Greens Health spokesperson Dr Rosalie Woodruff. "That's why we need the independent inquiry into the North West outbreak to commence as a matter of priority." She said the government's Interim Report did not address the 'cultural and structural issues' that led to more than half of the state's COVID-19 cases. "Without brave health professionals speaking up, Tasmanians would be unaware of the conditions staff have been struggling to work in as they care for sick COVID-19 patients." She also called for the government to commit to the resourcing needed to fix the ongoing cultural and structural problems already identified by the Interim Inquiry.
Glenorchy jobs hub – Independent Clark MHA Madeleine Ogilvie welcomed the Premier's commitment to ensure that the Glenorchy Jobs Hub would be delivered as soon as practicable after the current health crisis ends. The initial announcement had been made in early March, "to support those seeking a job, by connecting them with local employers and the transport needed to get to work" according to the state government. "I think it is fair to say that everyone knows somebody who has lost their job as a result of the current coronavirus crisis, and young people right across the state have been particularly hard hit. Securing jobs is more important than ever," Ogilvie said. "It is pleasing to hear that the $1.3 million in funding over two years that the Premier committed to the Glenorchy Jobs Hub in his State of the State address will still be delivered despite the impact of the COVID-19 crisis."
The Bridge – the Bridgewater Bridge saga is not quite as iconic as the Danish-Swedish series yet, but might be getting there. Labor are calling on the Liberal government to explain why it has spent taxpayer money on opinion polling for a project that is supposedly fully funded and on track. Shadow Infrastructure Minister, Shane Broad, said conduct of an EMRS poll suggested the Bridgewater Bridge project was back at square one. "The Liberals originally promised that construction on the new bridge would begin in 2019 but here we are in 2020 and the project seems even further away from becoming a reality," Dr Broad said. "Infrastructure Australia embarrassingly rejected the first business case and a new one is due by the middle of this year. Now we see the public is being asked at such a late stage if they think the bridge should have two lanes or four. At a time when we need to be pushing ahead with productive infrastructure, it seems the Liberals are preparing to dramatically scale back the Bridgewater Bridge design."
back to work – artist Rob Sheridan had some subversive takes on the push to get people back to work, particularly in parts of the USA where coronavirus is still roaring along. You can see a sample below and more available for free download and use here.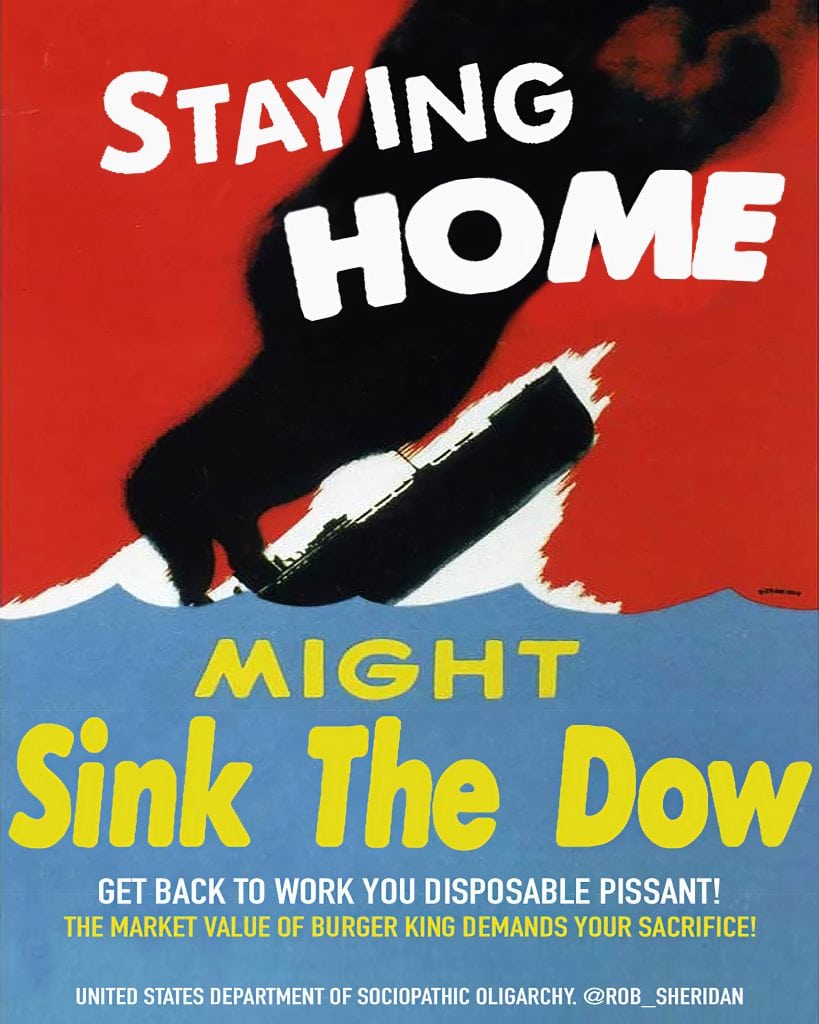 Author Credits: [show_post_categories parent="no" parentcategory="writers" show = "category" hyperlink="yes"]