The E in email is for … eh?
It's taken a few years but I think I have my 80-something dad trained on emails. At least he no longer calls me by phone to tell me he's sent one.
Not sure the same can be said for Minister for Corrections, Elise Archer. This week she breathlessly announced that the Tasmania Prison Service (TPS) has introduced a new initiative to help prisoners at the Risdon Correctional Facility maintain connections with their family and friends during the COVID-19 pandemic: (my bold)
"The Email A Prisoner (EMAP) service enables family and friends to contact prisoners using email messages while personal visits are suspended due to COVID-19. TPS staff have delivered this initiative as they understand how important it is for prisoners' mental health and wellbeing, as well as their rehabilitation, to stay connected with their family.
Those friends and family wishing to send an email to a prisoner must register with the service provider  to www.emailaprisoner.com.au using the individual prisoner's unique identification code. Prisoners will be provided with printed copies of the email through the existing prison mail delivery process."
Yes. Prisoner access will be through reading printed copies of inward emails. To reply, all they need to do is write their response on a piece of paper, fold it into a paper aeroplane, launch it out their window and hope it hits a giant target called 'Email Server' in the prison courtyard. All successful hits will be doused with Dr Archer's Renowned Magick Essence Of Email Good For All Correspondence Purposes And General Ailments before being transferred to the post office for delivery by bullock-drawn mail coach.
The. Future. Is. Now.
The 'cure' was worse than you-know-what
Televangelist Kenneth Copeland, who said about a month ago now that God told him the coronavirus would 'be over much sooner than you think' (but still wants you to tithe even if you've lost your job), offered up what I can only assume is some kind of incantation in order to destroy COVID-19. You can watch it below, complete with doing-his-darned cringeing sidekick.
Copeland screamed out at Satan to 'get off this nation' and 'crawl on your belly','before declaring the crisis to be over. And that's why the pandemic is now over. (It's not over.)
At the time he did this there had been 2,000 deaths in the USA. Today the total surged past 50,000.
Mister froffy-mouth, can you please stop helping? Ta.
Short Live the Vanguard!
So it was with Singapore's cartoon anti-coronavirus squad. The new comic superhero team, Virus Vanguard (see below), was recently created by the government to help Singaporeans win the fight against COVID-19 during the circuit breaker period. The idea was plausible if you feel you need to engage deeply with a demographic who may not be too switched on to traditional news sources.
One of the superheroes, MAWA (Must Always Walk Alone) man, ha the ability to enforce safe distancing and push people away from one another. As the name suggests, MAWA man has been described as a Manchester United fan who despises everything Liverpool, including their You'll Never Walk Alone motto and iconic song. Liverpool supporters were not happy, circulating a petition and generally yowling online for the character to be withdrawn.
There was some rapid unflogging as the five characters were quietly taken down on April 20 from Gov.sg website. Just their luck that sudden invisibility is another of their superpowers, huh! Gov.sg then explained in a Facebook post that the superhero team is 'undergoing a review' after receiving 'quite a lot of feedback'. They also apologised to those who had been upset by the Virus Vanguard characters.
The post revealed that this is the team's first attempt to create a comic series to convey different aspects of circuit breaker measures and the team welcomes suggestions as they rework the characters.
Oh well. Better luck next global pandemic, guys.
If it quacks like a quack, duck
Oh him again. Pete Evans. Yes him, that overgrown one-man boy band worshipped by anti-vaxxers. Paleo, keto, whacko-the-diddly-o Peto. If your insecurities need puerile solutions in expensive packages sold by airbrushed middle-age whitefella charm, he's your go-to man. But the TGA is not having his latest wondrous gadget, as unscientific and fraudulent as everything he flogs. At least he's consistent.
"The Therapeutic Goods Administration (TGA) has issued two infringement notices to Peter Evans Chef Pty Ltd (the Company) totalling $25,200 for alleged breaches of the Therapeutic Goods Act 1989 (the Act). Mr Evans is the sole Director/Secretary of the Company.
The TGA received a number of complaints about the promotion of a 'BioCharger' device that occurred during a Facebook live stream on 9 April 2020. Mr Evans allegedly live streamed on his Facebook page, which has more than 1.4 million followers, claims that the device could be used in relation to 'Wuhan Coronavirus' – a claim which has no apparent foundation, and which the TGA takes extremely seriously.
Any claim that references COVID-19 is a restricted representation under therapeutic goods legislation, and is of significant concern to the TGA given the heightened public concern about the pandemic. The TGA recently published a warning to advertisers and consumers about illegal advertising relating to COVID-19.
The TGA has issued the Company with an infringement notice in respect of the representation made in the live stream / video."
We think it should have been called the Buyer Charger because all this thing does is separate people from their money.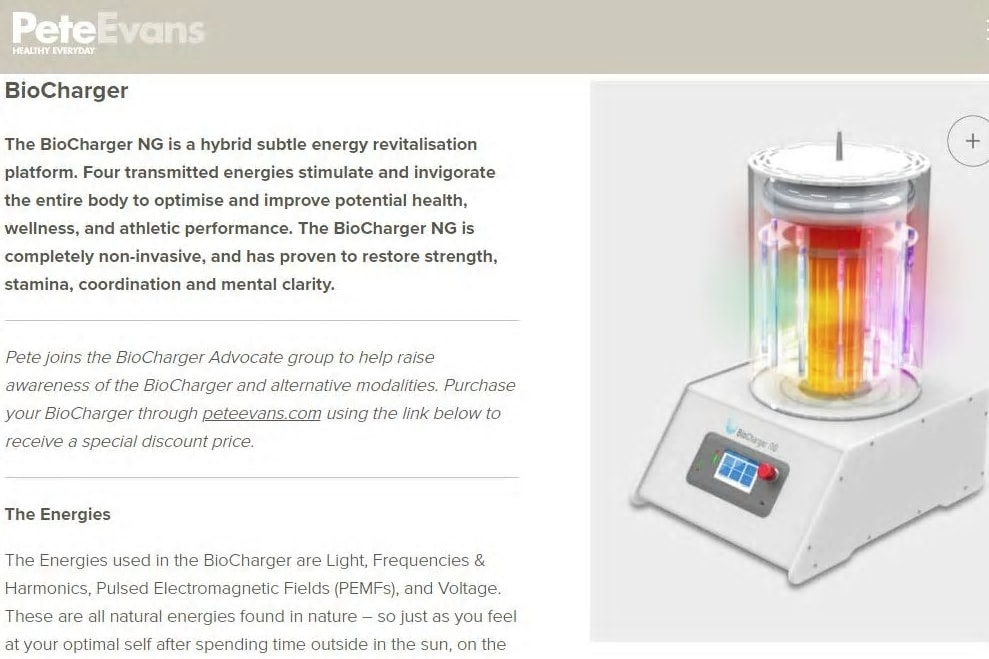 Misinformation is the virus
How many different types of people – colleagues, friends, news sources – do we need to hear from before we start sharing such a 'fact' ourselves? And how many different types of people should recommend a service or a product before we buy it and begin recommending it ourselves?
Researchers have created a new model of information/disease spread, which they then use to answer such questions. They say this model clarifies some of the reasons why certain news makes its way through social networks before there's time to check the facts.
This article is incredibly technical so unless you're a whizz mathematician or infectious disease specialist (in which case you're probably rather occupied these days), you probably don't need to read it. Roughly speaking, it says that people are more likely to spread information if it comes from familiar sources – neighbour, family member, social network friend, publication they like, etc. – than if it comes from a diversity of sources. And yet it's the latter that leads to less diffusion of dubious and downright fake news.
They therefore recommend that search engine and social media algorithms take this into account when deciding what to show us and in what priority.
Hello Fuzz, please don't engage me
Tasmania Police sent out an email last weekend titled 'police engage with north west community'. Maybe the lower case was a warning signal because apparently engagement these days is not a friendly hullo, hullo, hullo from the neighbourhood plod.
"We are using a variety of ways to engage with the community, including static traffic checkpoints sites and covert and marked police vehicle patrols and intercepts," said Acting Commander, Stuart Wilkinson.
Checkpoints? How about checklist, for what unfolded was a bellicose summary of arms of steel tightening around the north-west:
mobile patrols
20 police vehicles
40 dedicated officers
general duties officers
suburban streets
CBDs
concentrated coverage of the Frankford, Bass and Lyell Highways
more than 300 vehicles stopped and questioned in the previous 24 hours
"Police are working with the community," said A/C Wilkinson again, cheerily, as if staging the state's biggest dragnet in living memory was some kind of festival of rescuing kittens from trees followed by lemonade and mediocre sandwiches.
The Police have a job to do. So just do it. Call it policing, because that's what it is.
Corona … the beer you have when you're not having a meltdown
Yeah. We had a crack way back when. Sorry if y'all took a wrong turn a for a while. But, uhm, this:
This is fucking glorious. 😂😂😂pic.twitter.com/allqiLpZdN

— Michael (@mickyluv7) April 22, 2020
We know it might be fake. We also know that it might not. And that, friends, is quite the problem with the USA these days.
---
This is an TT occasional column calling out public relations spin, egregious stunts and media manipulation. The 'news' doesn't just magically come into being, it is created. We want to lift the lid on some of the shenanigans that go on behind the scenes. Tips are welcome! Send your information in to submit@tasmaniantimes.com.
Author Credits: [show_post_categories parent="no" parentcategory="writers" show = "category" hyperlink="yes"]