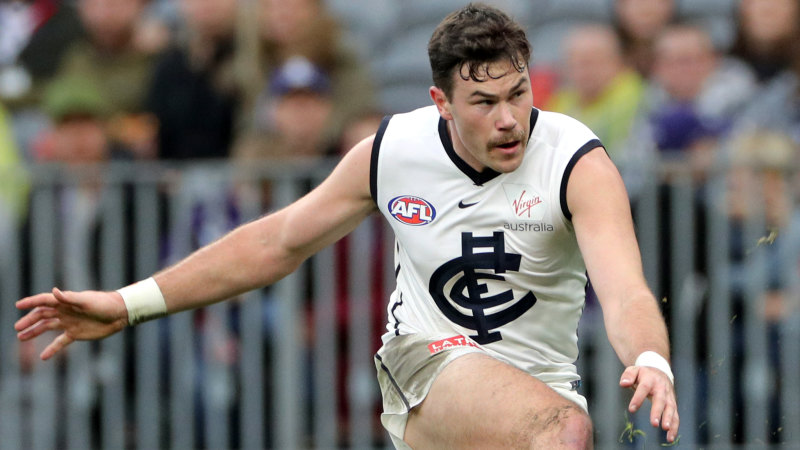 Loading
"He's got what we want, we love people that contest in the forward line and [have] got plenty of speed – we need speed in the forward line – but, once again, [at] 800-and-something thousand [dollars]," Ricciuto said.
"Has he delivered for Carlton yet? No. [We're] comfortable that he went."
Cameron, meanwhile, was traded to the Brisbane Lions at the end of 2017 with one year left on his deal at the Crows. Cameron has since come on in leaps and bounds, named All-Australian in 2019.
"Charlie Cameron was one we didn't want to lose. One of few we weren't happy to let go," Ricciuto said.
"He got a very, very good contract from Brisbane, who were down the bottom of the ladder and had money in their salary cap. [We] couldn't match that.
Loading
"When you're at the top of the ladder and your salary cap is chock-a-block, you haven't got much room to move, do you? If you pay someone overs or a massive amount of money, then it means you need to lose someone else."
Young took exception to Ricciuto's comments, particularly those about McGovern, who Young said left Adelaide because of issues stemming from the controversial Gold Coast pre-season camp of 2018 and issues with Crows football department staff. McGovern had previously signed a three-year contract extension with Adelaide at the end of 2017.
"Firstly, I have the greatest respect for Mark and his passion for the Crows, however I'm not sure if he has been provided the full facts on why Charlie and Mitch left the Crows," Young said.
"Those comments that Mark has made make no sense and I am very surprised that he made them. Why would Mitch stay loyal to the Crows and sign a three-year contract extension back in 2017, when he could have gone back home to Perth on an extremely lucrative contract?
"Instead Mitch chose to stay with the Crows for half the contract dollars and half the length of the contract time instead of going home to Perth.
"The reasons Mitch left the Crows was because of the camp and the Adelaide football department and that's it. Again with Charlie, it was not the money. Let's just leave it at that!"
Daniel is an Age sports reporter