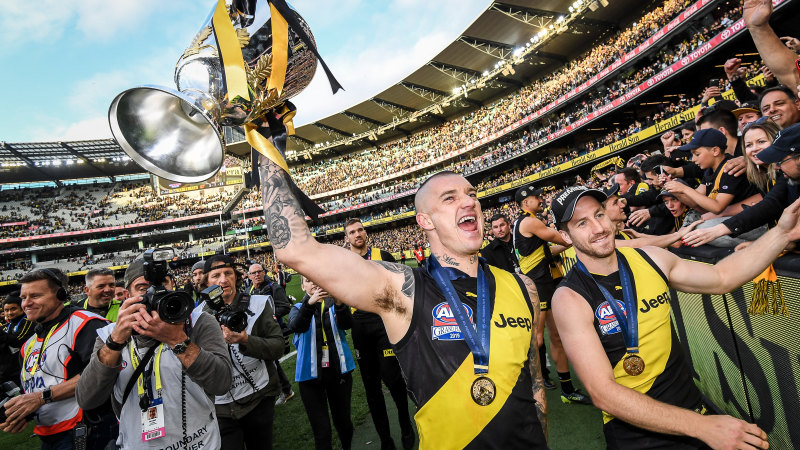 With the AFL having already released the fixture up to round eight, the plan is for the remaining nine rounds to be completed inside six weeks, with each team to receive a bye.
Auld also revealed that in periods where the fixture is compressed, games are likely to be played on every night of the week in the hope of ending the home-and-away season with the traditional Thursday-Sunday fixtures.
"It changes a little bit, but there is periods where we do play games every night of the week and in some cases you'll potentially have two games on some nights mid-week," he said.
"It requires some four-day breaks and that's what we're talking to the players about, to make sure that we look after their health and safety through this period."
Loading
With Victoria and NSW out of the picture in the immediate future, the league hopes to play matches in both Tasmania and the Northern Territory, with the traditional Dreamtime at the 'G fixture potentially being played in Darwin.
"We would like to try and get some games away in Tasmania, certainly Tasmania has been great for this game and the two clubs Hawthorn and North Melbourne who play there," he said.
"We'd like to get to NT, that would be a priority if we can find a way there.
"Clubs are certainly keep to get up there. I know Melbourne is keen to get to Alice Springs, Gold Coast is keen to get to Darwin. We'd love to have the Dreamtime game there."
Loading
While the league is aiming to compress games during the middle of the season, Auld said that the prospect of additional interchanges remains off the table for now, although it has been raised.
"We think the game could benefit from some compression," he said.
"The feedback we're getting from clubs is that they'd rather be playing than sitting around in the hubs.
"We'll look to stick to the same format in terms of interchange.
"What we will allow is teams that haven't taken their full squads away to bring their full squad up now so they can be prepared. They can use the flexibility within the squad."
Wide World of Sports