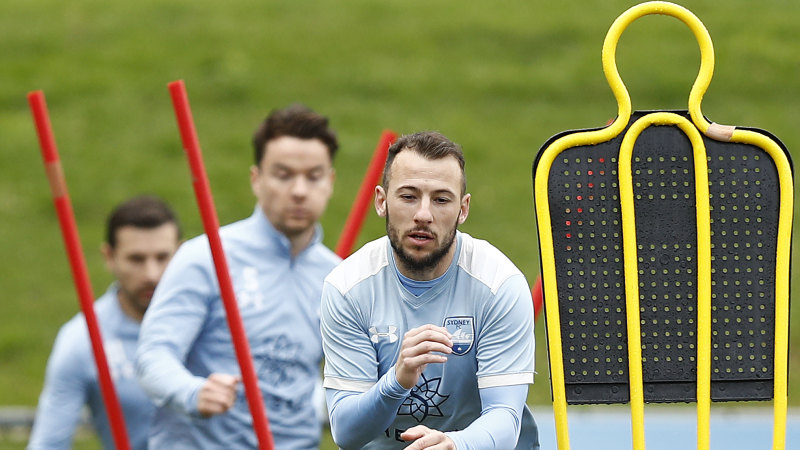 The 30-year-old is due to arrive in Sydney late on Wednesday night, and will be subject to two weeks' quarantine in a hotel before he is able to join the Sky Blues squad in training.
"We're trying to get a running machine into his hotel room, if that's allowed," coach Steve Corica said.
"We'll see what happens. He'll have [a] shorter preparation than the other boys, so we've just got to take it a little bit easier with him. Whether he'll be right for the first game, I can't answer that yet.
"We'll see how he comes back after he's done all his running program and two weeks of quarantine and we can just judge him when he starts training with the boys."
It is an inconvenience for Corica and McGowan but Sydney FC have gotten off lightly compared to most of their A-League rivals. A glut of players – including high-profile imports Ola Toivonen (Melbourne Victory), Pirmin Schwegler (Western Sydney) and Gregory Wuthrich (Perth Glory) – won't be back to finish the season, while Brisbane Roar coach Robbie Fowler and assistant Tony Grant are also not yet back in the country.
McGowan's defensive partner, Sydney captain Alex Wilkinson, said he couldn't begrudge any player who chose not to return given the uncertainty surrounding the A-League and the pay cuts players have had to accept.
"The PFA and FFA did the best job they could in terms of keeping the integrity of the competition in place … we felt that we really wanted the season to end the way it started, in terms of players being at the same teams and what-not," he said.
"But then it's up to individuals and individual situations. Obviously the players agreed to a negotiated wage cut and if players are overseas, foreigners especially, and their contracts are running out in three months time and they've got an opportunity to find another club, you can't really blame them, can you?"
Loading
Wilkinson said there was still plenty of "anxiety" among players regarding the A-League's future, with a deal still yet to be inked with broadcasters Fox Sports to televise the rest of this season, which will see 27 games crammed into less than a month.
"There's a lot of uncertainty and anxiousness around the broadcaster, but we as players can't do much about that," he said.
"That's between FFA and Fox now, and I know they've been working on that over the last few months and they're still working on it now.
"We as players have just got to put our trust in them … the broadcast deal's still got three years to come, and hopefully Fox can stick with us for those three years and we can continue the partnership we've built over the first 15 years of the A-League."
Vince is a sports reporter for The Sydney Morning Herald.