The Panthers have even made a point of referring to their round-seven clash as being played at Sarraf Strata Jubilee Stadium, one of their sponsors in direct competition with Nestrata, the official naming-rights holder of Kogarah Oval.
In a bid to appease sponsors while games were being played away from Penrith and with no fans, the club went out of their way to ensure sponsors were properly recognised by TV audiences.
Club officials remain hopeful they can salvage something in time for the Bunnies' kick-off.
Benn Murphy, part-owner of Clarke Murphy Print, the company behind the Fan in the Stand initiative, confirmed the $22 Panthers cutouts would remain at Campbelltown.
"One of challenges we had when we first started was we had to do a seat audit because all the seats were different," Murphy said.
"The seats at Suncorp, North Queensland and Bankwest were the same, but the rest are slightly different.
"We have some clever people who work in industrial design and could make the changes at short notice for Kogarah, but I'm not sure that will be required for Thursday."
The Fan in the Stand initiative finishes on Wednesday with more than 6500 cutouts already produced. Parramatta led the way when it came to supporting the concept.
Meanwhile, Wests Tigers are expected to shift next weekend's Penrith clash from Campbelltown to Bankwest Stadium, but for financial reasons and not concerns about the deck.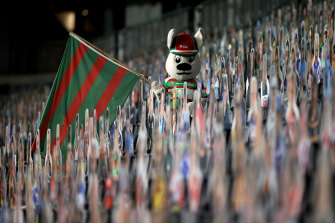 Tigers boss Justin Pascoe confirmed the joint venture was keen to get as many fans through the gates, and Bankwest was the best fit.
"It's got nothing to do with the playing surface, but more to do with the fact we can get 7500 people into Bankwest compared to around 2000 at Campbelltown," Pascoe said.
"To give our fans and members the best opportunity to see us live, we need to take it to Bankwest."
The Tigers are obligated to play four games at Bankwest Stadium and three at Campbelltown and Leichhardt Oval.
Loading
The Panthers were prepared to host the Tigers next weekend, in exchange giving up their home game against the Tigers in round 16. The idea had some merit given the traffic Bankwest has endured.
By the end of this weekend the Parramatta surface will have hosted no less than 11 games through the month of June.
Next weekend will see Parramatta host North Queensland, the Tigers and Penrith, and possibly Canterbury and South Sydney, who are yet to decide if they meet up the road at ANZ Stadium where the deck has been maintained even during the COVID-19 period.
Christian covers rugby league for The Sydney Morning Herald.
Source link