But on Thursday, forensic psychologist David Greenberg told the court in a later interview he carried out with Ms Camilleri, she told him it was she who grabbed her mother by the hair and dragged her into the kitchen, and she who took the knife and threatened her mother with it.
She said her mother "never grabbed my hair, but slapped me on the arms and legs with an open hand because she was at her wits' end", Professor Greenberg said, quoting his notes.
"I dragged mum all the way down into the hallway to the kitchen by the hair," she said. "I ripped her hair out. I saw red."
He said Ms Camilleri told him her mother got up from the ground and "started slapping me".
Loading
"I then remember opening up the drawer and pulling out the knife," she told him. She said she "just wanted to scare her" at first but her mother grabbed the knife and threw it away.
Professor Greenberg said Ms Camilleri told him she "got so agitated I lost it" and began stabbing her mother.
"I wouldn't stop. I injured myself. I was getting her everywhere. I was getting the adrenaline going," she told him.
When he asked how parts of her mother's face had come off, she told him she got the idea from movies.
"I think I did that, I was so angry. I think I had sick thoughts. I used to watch horror movies. I got it off horror movies," she said, mentioning Texas Chainsaw Massacre, Jeepers Creepers and Saw.
"One of them where the guy killed all the guys. I remember he cut off their heads and removed their eyes and tongue."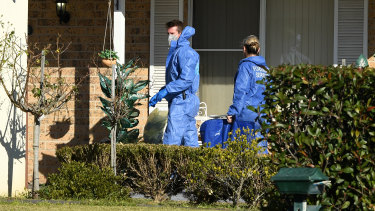 Before Professor Greenberg's evidence, the court heard from forensic police who described the bloody scene that confronted them – and a number of items found at the home, including eight DVD copies of The Texas Chainsaw Massacre and five copies of Jeepers Creepers.
Senior Constable Hayley Bennett said there was "no sign of a clean up" when she arrived at the house. Apart from extensive blood stains and Mrs Camilleri's mutilated body in the kitchen, she described finding a box of latex gloves in Jessica's bedroom and pieces of what appeared to be "similar" blue gloves around Mrs Camilleri's body.
She also found a Crocodile Dundee figurine in the bedroom. "The head of the figurine was detached from the body," she said.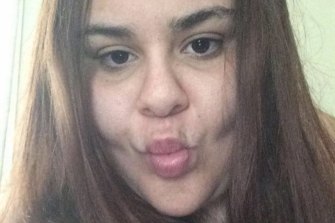 The jury also heard that Ms Camilleri "relentlessly" harassed a meat business with phone calls threatening decapitation for at least a year, prior to killing her mother.
The officer in charge of the investigation, Detective Sergeant Grant Gilbert, read out a statement from the business manager who said the conversation was always the same, culminating in Jessica "threatening to cut our heads off".
The trial continues.
Start your day informed
Our Morning Edition newsletter is a curated guide to the most important and interesting stories, analysis and insights. Sign up to The Sydney Morning Herald's newsletter here, The Age's here, Brisbane Times' here, and WAtoday's here.
Jenny Noyes is a journalist at the Sydney Morning Herald.
Source link