"I think employment will be the next major challenge. It will be about how many hours we can give to people."
Loading
Mr Andrews emphasised on Sunday the government wanted to wait to analyse test results and ensure an outbreak of the virus in the northern suburbs was under control before a further ease of restrictions.
Suburban shopping strip operators expressed their dismay with having to wait longer for re-opening news. Chapel Street Precinct general manager Chrissie Maus said the uncertainty was "frankly inhumane" given the case numbers. The state record seven new cases of the virus on Sunday, bringing the 14-day rolling average below five.
"We are just eight weeks out from social distancing with Santa, but far from getting into the spirit," she said.
Other smaller retailers said despite their disappointment, the safety of their customer bases and communities was front of mind.
"The main thing is that we're all safe – and that we are doing everything that we can to get through this crisis," said founder of Fitzroy homewares store and artists studio Third Drawer Down, Abigail Crompton.
Ms Crompton said retailers around the globe had been learning to cope with daily uncertainty in the face of the pandemic.
While the Melbourne store has been closed since April, Third Drawer Down's wholesale business was continuing to thrive in other Australian states, she said.
"Today was disappointing, the idea of reopening is a lovely idea…I'm excited to go back and see it [retail] differently," she said.
"It doesn't have to be seven-days-a-week [in store]. The online experience is vital for any good retailer."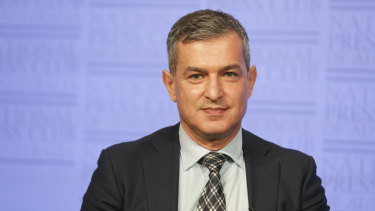 Australian Retailers' Association chief executive Paul Zahra said while safety of customers was paramount, the sector was tired and frustrated by the unknowns given Victoria was now under an average of five cases a day.
"We're exasperated, and it appears the goal posts have moved," he said.
Even if retailers only had to wait until mid-week for more updates, this short time period would still take a toll, he said.
"It's just been a rollercoaster of expectations, disappointments and delays. I just think every day counts."
Emma reports on healthcare companies for The Age and Sydney Morning Herald. She is based in Melbourne.