Some of his 'softening' has involved the removal of various pieces of hedging. There's even a chance his box parterres might go in order to make way for more flowers and organic shapes of clipped greenery.
Current restrictions mean that, not only am I unable to visit to see the latest developments, but Bangay isn't in the garden either. When COVID-19 restrictions put an end to his landscape design work in Victoria, he flew to Darwin to quarantine for two weeks and is spending three weeks working on gardens in New South Wales instead.
He is in Sydney when we speak and it's killing him not being at Stonefields during what is, there, a particularly moist spring. But his husband, Barry, stayed home and sends him "a million photographs every day" so he knows that the tulips are just finishing ("I missed them all") but that the camassias are out in abundance.
He's had word that the Allium 'Purple Rain' ("alliums are rapidly becoming my favourite bulb") will be flowering within days, that the 100 new lilac trees, mostly of the 'Congo' variety, are about to break out in huge bunches of grape-like mauve flowers and that the perennial beds are warming up for their main summer and autumn show.
Stonefields By the Season illustrates much of this too. While Simon Griffiths charts the garden across the course of a year in photographs, Bangay dispenses practical advice and reflects on his changing design philosophy, including what he would do differently if he were starting over.
The growing popularity of loose, naturalistic landscapes – in particular the move towards large drifts of grasses and perennial flowers that has been gathering pace in Europe since the 1990s – has been but one of the influences on Bangay over the years.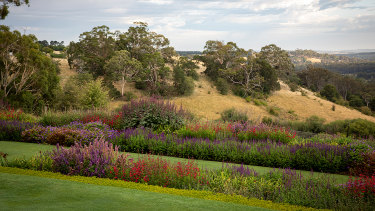 He says he has also been inspired by the growing emphasis being placed on soil health. While Stonefields has well-drained, rich volcanic soil, Bangay says it is made better still with the addition of homemade compost, which encourages healthy populations of microbes and helps plants survive through our increasingly hot and dry summers.
Climate change and its impact on all the seasons is a constant thread through the book and Bangay says that hotter and drier weather means he is increasingly turning to plants that can survive through summer with minimum watering. Roses, oak trees and, when it comes to hedges, bay and laurel, are especially useful for this. He says if he were to start again he would be more inclined to incorporate large areas of gravel than water-hungry lawns.
"On my travels to hot dry countries, such as Greece, Italy and parts of the Middle East, I am constantly searching for plants that do well in prolonged hot, dry summers. They are often native to these countries, found along the roadside or on long morning walks before the heat of the day," he writes in the book.
Loading
After 15 years of this sort of finessing, Bangay says Stonefields has a sense of maturity. His hedges and most of his trees are at the heights he wants them to be, and he says people often tell him that the garden looks as if it has "been there for decades".
And, if he had to sum up the key to this, what would it be? "Good soil, drainage and watering … along with great love and attention."
Stonefields By The Seasons, published by Lantern Australia, November 3, $59.99
Source link