It is all three factors taken together, with one other thing. This first Test is also being played at a time when the very existence of a professional Australian rugby side has been placed into question by loss of broadcasting deals and major sponsors.
Loading
So, new dawn? Damn right!
And I repeat, the goodies are unlikely to win it. But can I at least record the foundation stones most of us would like to see laid – upon which the glorious new age of green and gold will be built?
Starting with the obvious:
A serious scrum. I don't have the stats and don't care, but I can tell you for nothing that at times in recent years the Wallaby scrum has resembled nothing so much as a rusty shopping trolley – heading wonkily and creakily backwards every which way, whenever opponents gave a massive heave. On Sunday we need to see this key building block in place: our put-in, our ball! If we don't have that, all hope springs infernal.
A serious lineout. I don't have the stats and don't care, but I can tell you for nothing that at times in recent years the Wallaby lineout has been little more than a jumped-up roulette wheel – even on our put-in. We throw in and hope like hell. Every time a team like the All Blacks throws it in, they get it back 19 times out of 20. Our blokes… not so much. So on Sunday let us look for this other key building block in place: our put-in, our ball! And no more of balls being thrown not in straight! That was not acceptable in Sydney second grade 40 years ago, so I have no clue how it was so often a feature of Wallaby lineouts in recent years, in the professional age.
Seriously contested kick-offs. Ever and always the measure of both a team's organisational capacity and its ooooomph is, respectively, how well they receive kick-offs and attack opponents doing the same. Whatever else let's see an improvement in both in this Test because in recent years they have been – to use the technical term – shithouse.
The rising generation starting to shine. Whatever the result, we must see Rennie's new generation – the likely half-dozen players coming from the junior Wallabies who've been making such a noise in recent times – demonstrate that they can compete against the best at this level. Ideally, we will see 2020's answer to Tim Horan, Jason Little and Phil Kearns making their stunning debuts back in 1989.
Beyond all that?
Well, beyond all, I would love to see on Sunday the foundations of a Wallaby team where we can actually know and admire many of the men involved. With the greatest respect to the generation just gone – who were no doubt fine people – they broadly appeared to live on planet Wallaby, a depressingly remote place. They were hard to get to, and rarely visited off their own bat. I have recounted before how, back in 2015 after the World Cup, as chair of the Cauliflower Club I had to threaten blue murder to the Wallaby management just to get half a dozen Wallabies to turn up to a function for 800 people at the Westin Hotel. They did come, had a great time and comported themselves well.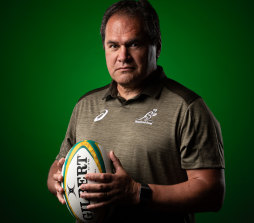 But under Rennie, ideally, this new lot will see themselves as genuine representatives of Australia's rugby community, who they feel close to, and actually are close to.
Good luck, gentlemen, and Mr Rennie. We will be watching, and wish you well. You are playing to lay the foundation stones of the new age.
Winning will be just a bonus. And remember, one for the old days: if you can't beat them, at least bring a piece of them home to show your mothers.
Twitter: @Peter_Fitz
Sport newsletter
Sports news, results and expert commentary delivered straight to your inbox each weekday. Sign up here.
Peter FitzSimons is a journalist and columnist with The Sydney Morning Herald.
Source link