"He takes the pressure off everybody. He's like that extra service at second receiver so Cody Walker and James Tedesco can just wander the field.
"He was a conduit who not only controlled the middle but controlled the whole game. Jake set everything up, which took the pressure off Cody and Tedesco and Nathan Cleary.
"Cody Walker had such a good game because he didn't have to worry about setting plays up or organising because Jake did all that for him. He organises the whole side. Then he still had the time to come up with game-turning tackles."
Trbojevic's bone-rattling hits on Xavier Coates and Lindsay Collins in the space of three minutes last Wednesday night were as good as they come.
New Blues skipper and Trbojevic's regular golfing partner James Tedesco said the pair, along with Damien Cook, often spoke about ways they could combine to try and dominate the middle.
"Jakey is the one with his hands on the ball off the short passes, he digs into the defensive line when he can and he doesn't over-play his hand – when he needs to take a tough carry he does and when he needs to tip-on he does," Tedesco said.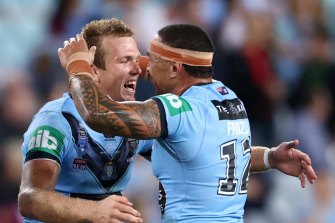 "Everyone in this team knows how important he is, we all love him, he will do anything for these boys – on or off the field – and he just doesn't stop. He's been doing it years now."
Trbojevic nervously giggled when told about all the praise, including the huge compliment from Hasler. He did not believe the coach's hype was true until told three separate times by the Herald.
Loading
"Des is a good man, he's a great guy to play under, I love hearing the raps but I won't take them," Trbojevic said. "I don't think we had a bad player the other night. Nathan's kicking game was outstanding.
"I was actually nervous going into Adelaide having not played for so long. Normally you've played ten or 11 games and feel good going into Origin. I definitely felt better for the run in Sydney."
Trbojevic's younger brother Tom would have been in the Blues side had it not been for injury, while Manly teammate and Maroons skipper Daly Cherry-Evans will be out to break Jake's heart – and Trbojevic has watched him first-hand do it to opposition teams countless times when the game is on the line.
"I know what a competitor Daly is, and when the game is on the line he wants the ball and more often than not he gets the job done," Trbojevic said. "I'm lucky enough to have played along side him when there have been some tight games. He kicked his 21st winning field-goal this year [in round two]. He gets it done in the big moments."
Hasler, who likened Trbojevic to former Maroons hardman Jason Smith, said the Blues had the better team, but needed the "right temperament" if they were to snatch a rare Origin win north of the border.
Christian covers rugby league for The Sydney Morning Herald.
Source link