The Great Wall of China is "too long," there aren't any actual zebras crossing Abbey Road and The Grand Canyon is an overrated sandy ditch. Here's further proof that you just can't please everyone. 
In 2016 user Pavloszante was bitterly disappointed by the architectural icon that is the Sydney Opera House. In his no nonsense appraisal he writes: "If you like brown concrete with Dim lighting you're in for a treat. Life is too short – do something else."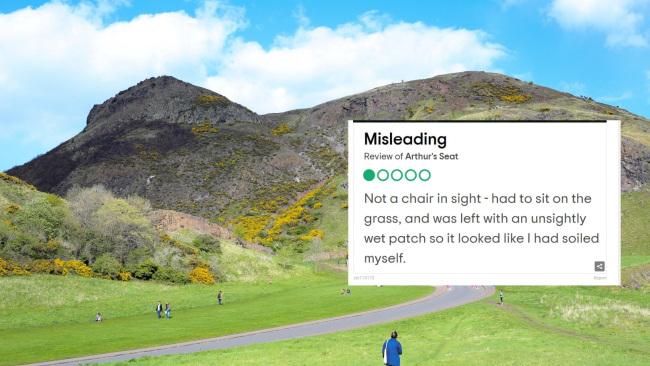 That is a profound review of Arthur's Seat in Scotland.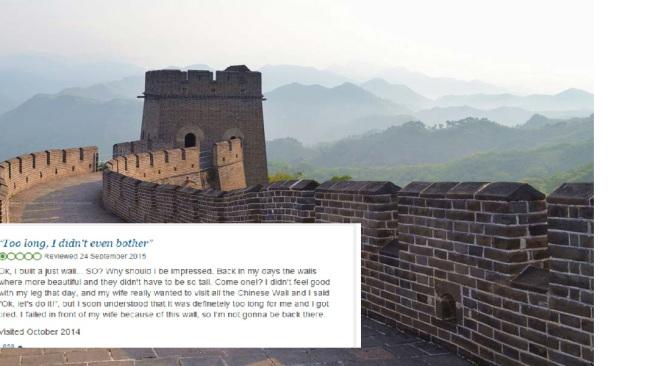 Irish Tripadvisor user Woodywoodpecker51 was seriously underwhelmed by the Great Wall of China. His review titled "Too long, I didn't even bother" reads "Ok, I built a just wall… SO? Why should I be impressed. Back in my days the walls where more beautiful and they didn't have to be so tall. Come one!? I didn't feel good with my leg that day, and my wife really wanted to visit all the Chinese Wall and I said "Ok, let's do it!", but I soon understood that it was definetely too long for me and I got tired. I failed in front of my wife because of this wall, so I'm not gonna be back there." (sic)
In 2015 when this person visited the iconic Abbey Road in London, they were decidedly unimpressed. "I was told to check out the zebras crossing Abbey Road whilst in London, but didn't see any," they wrote. "Perhaps you have to come at night to see them. There were lots of people there looking for them but didn't see a single one! I'd recommend London Zoo at Regent's Park over Abbey Road for zebras".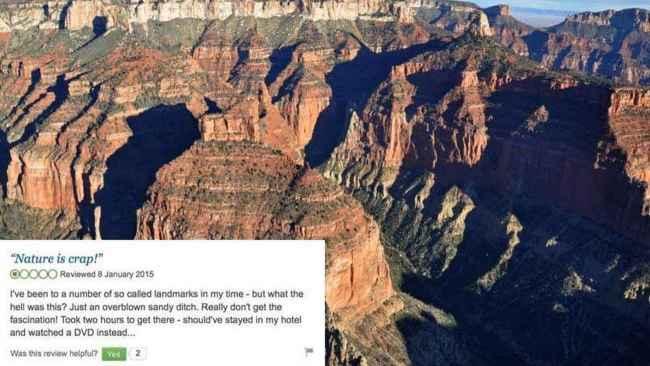 Imagine being this unimpressed with the The Grand Canyon. In a 2008 review subtly titled "Nature is crap", David H wrote "I've been to a number of so called landmarks in my time – but what the hell was this? Just an overblown sandy ditch. Really don't get the fascination! Took two hours to get there – should've stayed in my hotel and watched a DVD instead …"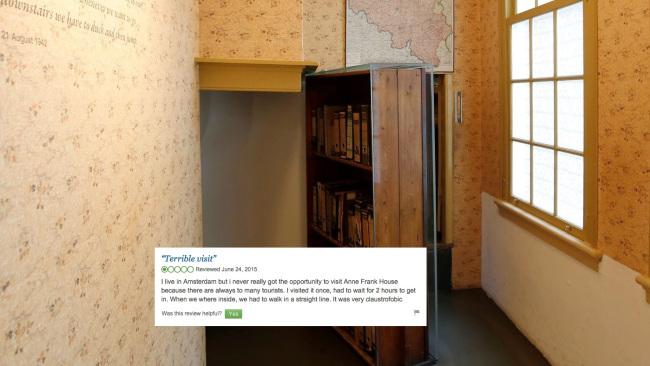 In 2014 a resident of Amsterdam was highly critical of one of her city's tourist attractions. In fact, she had a "terrible visit". Her review reads: "I live in Amsterdam but i never really got the opportunity to visit Anne Frank House because there are always to many tourists. I visited it once, had to wait for 2 hours to get in. When we where inside, we had to walk in a straight line. It was very claustrofobic".
This London hotel review reads "this so called 'hotel' is in fact some sort of large scale psychological experiment about human suffering and gullibility … The sheets on the bed looked like they had enjoyed a long career in a particularly messy and degrading part of the adult film industry. If there is an opposite to memory foam (amnesia foam?) that is what the bed was made of. The bathroom door had clearly seen a bit of action, a large hole in it had been repaired (although I'm not sure that is the right word) using what appeared to be brown mud, at least we hoped it was mud. The bathroom itself resembled a dirty cupboard designed by the inventor of Tetris – everything was jammed in at bizarre angles in order to make it fit. One would need to be a most practiced contortionist to use the sink or the shower. Brilliantly, the toilet wasn't actually fixed to the floor, like some kind of cunning booby-trap for the weary contortionist defecator. Don't ever stay here – It is just awful."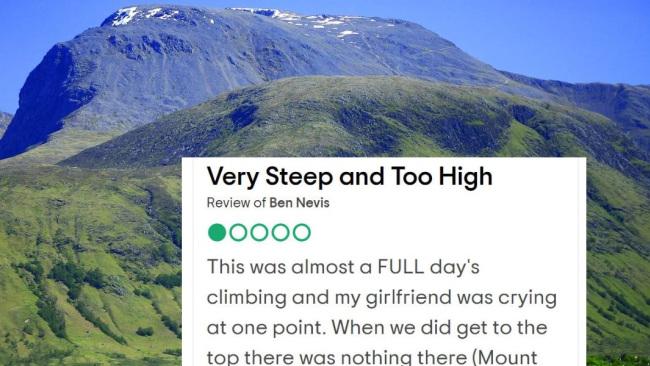 Of Ben Nevis in Scotland, this reviewer wrote "This was almost a FULL day's climbing and my girlfriend was crying at one point. When we did get to the top there was nothing there (Mount Snowdon has a pub, restaurant and toilets at its top). Luckily we had brought some sandwiches and drinks, so anyone else climbing this one – BE WARNED- there are NO facilities at the top. The climb basically went on for far too long and the last part was particularly steep and difficult. It was also cloudy at the top so the view was non-existent. The long walk back down was boring and again took too long."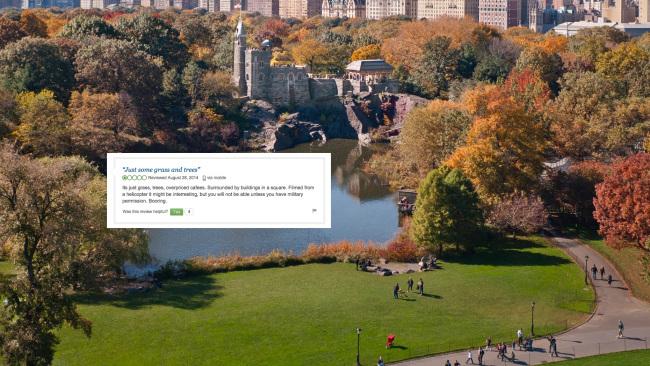 In 2013 user milo123456 (get those characters in that username, baby!) did not have a great time at New York's Central Park. In his missive titled "just some grass and trees" he complained: "just grass, trees, overpriced cafees. Surrounded by buildings in a square. Filmed from a helicopter it might be interresting, but you will not be able unless you have military permission. Booring."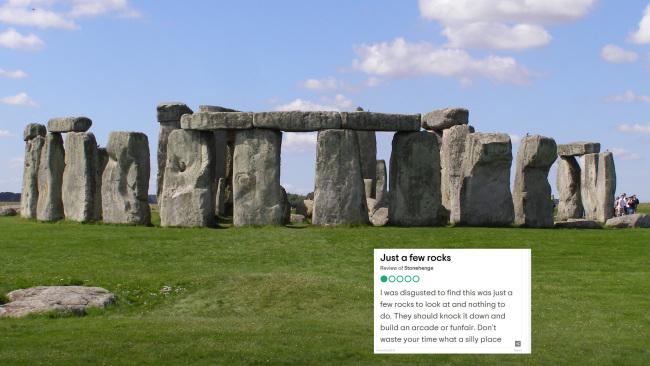 Of Stonehenge in the UK, user HonestLocal2012 wrote "I was disgusted to find this was just a few rocks to look at and nothing to do. They should knock it down and build an arcade or funfair. Don't waste your time what a silly place".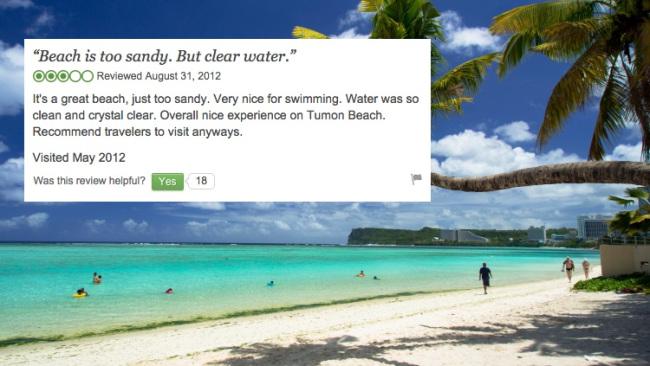 Look, this traveller didn't absolutely *hate* Tumon Beach. They were rather generous about parts of it. But it was just too ….. sandy.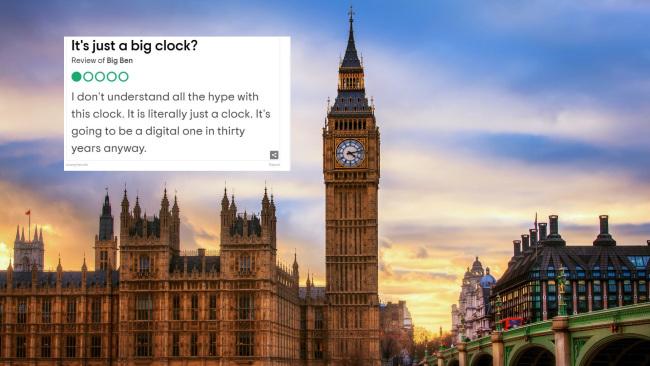 This person is clearly a romantic at heart. Another excellent review of Big Ben reads "I've got a grandfather clock at home that is just as thrilling to look at" and another says "I'm glad they blew it up in 'V for Vendetta'."
Reviews panning the Eiffel Tower are almost their own genre. A one-star review from a user named buryyourcup reads "Stepped on some chewing gum … disappointment! Not as good as the Statue of Liberty at least. What do you expect". Another described it as "just a big hunk of rusty steel" and another was irate that the staff tried to speak to him in French "but I don't speak French BECAUSE I'M A TOURIST!!!!!"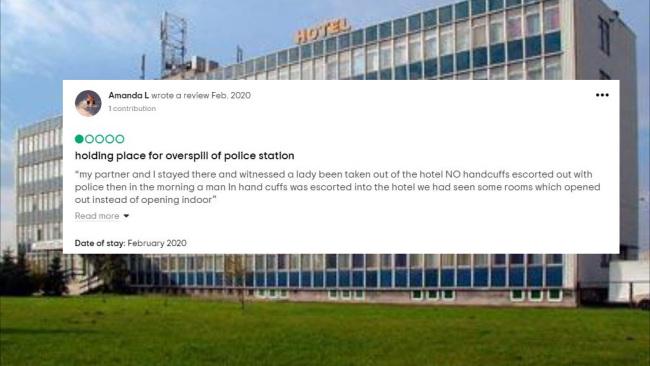 A particular hotel in Krakow, Poland gets some truly scathing reviews. Our favourite reads: "To sum it up, on my last day I slipped on a used condom and tore my hamstring. Sickening! For the sake of yourself, your family, your friends, and your sanity. DO NOT EVEN CONSIDER GOING!!!."
In a fabulously forgiving review of a hotel in India – poetically titled "All's well that ends well," one chap wrote "This is not a lie a man had went and pooed on the floor in the kids play room. On the plus side the staff were so nice and kind."
Source link