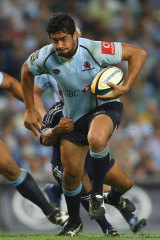 With strong rosters, the Rebels did not qualify for Super Rugby finals in 2018 and 2019 after favourable starts.
Speaking on the Rugby Ruckus Tight Five podcast, Turinui didn't hold back.
"The really cold harsh fact around the Rebels [is] I just think Dave Wessels is not the answer," Turinui said. "They had two great opportunities, two great years, and they didn't do it. They just didn't have the environment there, the output, the tactical nous, the technical capabilities to perform and I don't see any evidence that will change. They're doing some pretty basic things in attack. I don't see development in their game.
"I don't see anything building there, I don't see a particular amount of hope. Truthfully the Rebels need three to five years to be left alone and developed.
"They've become a revolving door for talent. I think the harsh truth is they will probably need a new head coach and start to rebuild again on the back of some excellent young Victorian talent they need to identify and see together and play games of footy with."
Turinui identified Reds centre Hunter Paisami and Waratahs fullback Jack Maddocks as two players he feels have kicked on to bigger and better things since leaving the Rebels.
"You look at Hunter Paisami; he goes off to the Reds and absolutely kills it. Maddocks goes elsewhere; absolutely kills it. Those are worrying signs.
"Paisami, for example, is a local home grown product. The Rebels had him, couldn't do enough with him, couldn't develop him. There are young players there that haven't kicked on yet. Who have you seen improve in the last few years there?"
The Rebels declined to comment but there is no suggestion Wessels' time is up given he re-signed a contract in early 2019 until the end of 2021 following a debut season that yielded seven wins from 16 starts.
Loading
In 2017, the season before Wessels arrived, the Rebels won one of their 15 matches.
Wessels' record in charge at the Rebels is 17 victories from 39 matches (43.6 per cent), which includes the side's most recent 31-23 loss in Super Rugby AU to the Brumbies.
The club already has plenty on its plate following news of further lockdowns in Melbourne on Tuesday as a result of more alarming numbers of Victorian COVID-19 cases.
Around six families of Rebels players made their way to Albury on the NSW-Victoria border on Monday evening in the hope of joining the team in coming weeks.
The Rebels head to Sydney on Wednesday for a home match against the Queensland Reds at Brookvale Oval on Friday but their future is uncertain with the Victorian border now closed and the city in lockdown for six weeks.
"None of us knew the grade three restrictions were coming today, so I'm slightly relieved and probably pleased there is half a dozen families and partners that have some options," said Rebels boss Baden Stephenson.
The Rebels are hopeful of playing home games this season but know it is unlikely given the latest restrictions.
Tom Decent is a journalist with The Sydney Morning Herald
Source link