"It was raffle tickets, meat trays, the old-school ways," she said. "She was gone for a month, so that would have been time off work, too.
"It's amazing how far and how quickly the game has accelerated and it's because of those people – Tahnee Norris, my mum – they have paved the way and created the most optimal elite environment for us."
As a result of her mum's playing career, Parker was introduced to rugby league at a very early age.
With mum playing league and union at the time, Parker said she and her sister would wait for her to finish league training before jumping in the family Toyota Tarago to go to her union training.
"We would be at the footy field straight from school and then we would come home at 10 o'clock at night," she said."We would always be the first ones at the field and the last ones to leave."
One of their biggest barriers, Parker said, was simply growing up in Western Australia, where women's rugby league is not as developed as it is on the east coast.
The lack of women's league players in the area meant the pair would often play together, with mum and daughter also having represented WA together at a national level.
"She would run it straight at me because she was stronger and I'm a little twig," Parker said. "She shaped my mongrel, no-fear mindset."
Being from WA, Parker never imagined she would play at an elite level like her mum. Then she was offered a contract with rugby sevens in 2016. The contract meant she had to move to NSW and leave WA, and her mum, behind.
"She legit pushed me out the door," she said. "We had a week to decide and I was gone in the two weeks."
After making her debut for the Roosters last year, Parker said she never thought in a "hundred million years" she would get the call up for Origin this year.
Parker has been named on the wing for game day and will pull on the No.2 jersey.
"It's a moment I never really thought I would be capable of getting to," she said. "Jess Sergis, Isabelle Kelly, I've always looked at those players as the optimal athlete in rugby league. I never saw myself putting on a jersey next to them."
Due to border closures, Parker's mum will be unable to attend the game but will be there "in spirit". Still playing rugby league at the age of 43, Danielle is now working to create better pathways for female league players in WA and was recently inducted into the NRLWA Past Players Hall of Fame.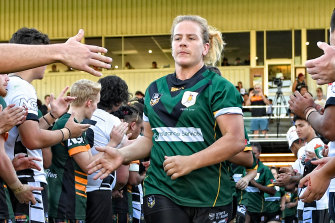 "She is trying to help out all the young girls now coming through . . . so they don't slip through the cracks just because of being in WA," she said.
Sarah is a journalist for The Sydney Morning Herald.
Source link